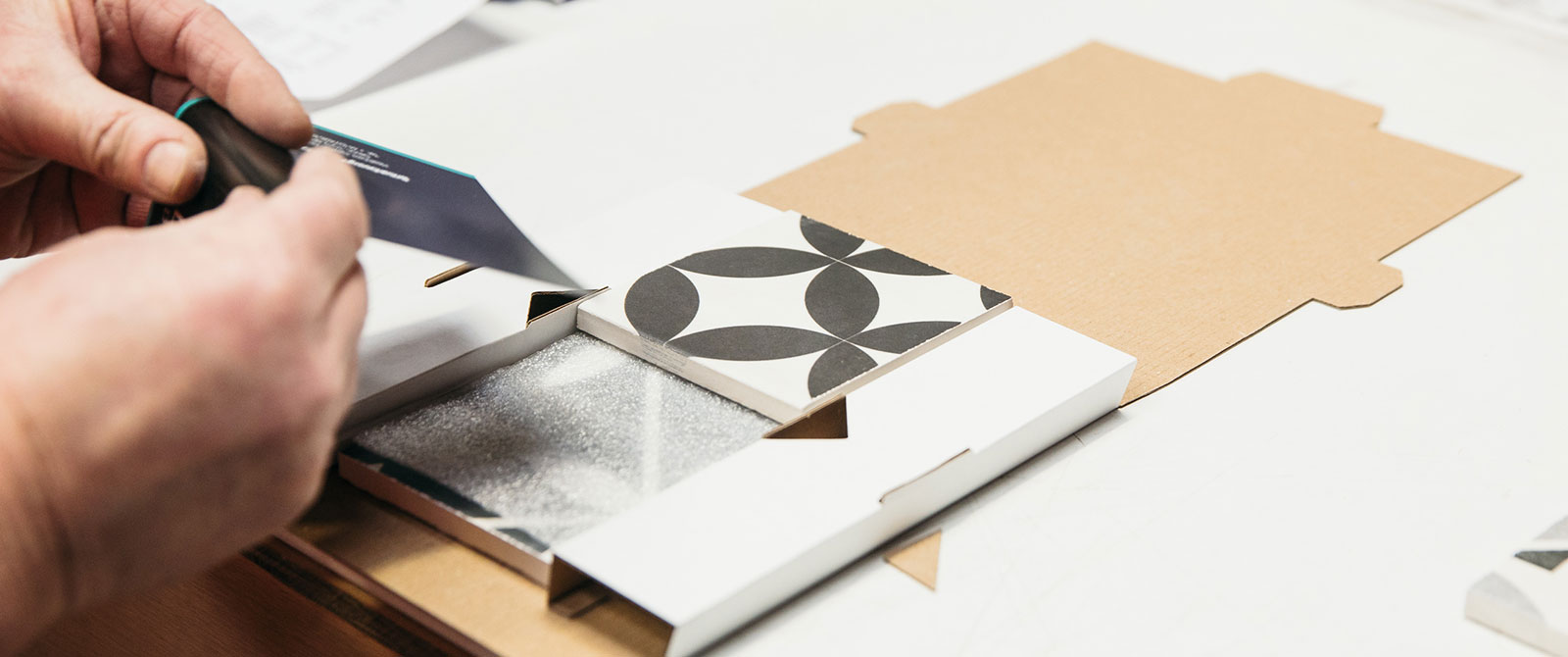 Order FAQs
General
Yes you can order samples for the majority of tiles on our website via the product page, samples are just £1.99 each, you can order as many as you like and they will be delivered. Samples ARE NOT full size tiles they are 100mm x 100mm chips. See our sample service page for full details.

You can contact us via telephone on 0113 252 6909 Monday to Friday from 8.30am to 5.30pm, alternatively out of working hours you can email us on customer.care@britishceramictile.com or contact us to complete an online enquiry form.

We have a tile calculator on the each product details page, simply enter the total surface area in m2 and our tile calculator will work out how many boxes you will require, we will also add 10% extra to your order for any errors or future breakages, you can remove this extra 10% by un-selecting the tick box on the product details page.

We have a search bar at the top of each page which you use by clicking on the magnifying glass icon, in here you can search by entering a product name, code, collection name or brand name, if this does not return the product you are looking for we would suggest looking in the relevant room category, if you are unable to find the product that you are looking for on our website, it may be discontinued or out of stock, if you would like to contact us our Customer Services team will be happy to help you.

You will find the dimensions of each tile on the product details page under "product details" underneath the product images, all measurements are provided in millimetres. If you should require any further details on the product that you cannot find on this page please don't hesitate to contact us.
Ordering Online
Yes, if you would prefer to place an order over the telephone please call 0113 252 6909 Monday to Friday from 8.30am to 5.30pm and we will be happy to take your order over the telephone.

We accept all major credit and debit card, we also accept payments via PayPal.

Yes, all prices listed on this website are inclusive of VAT.
Delivery & Returns
We currently only accept orders within mainland UK addresses on our website, however if you are outside of mainland UK or would like an order shipped internationally please contact us and we will endeavour to fulfil your requirements.

Please note: a custom shipping charge will need to be acquired for orders shipped outside of the UK and this is likely to be more than the delivery charges shown on our website, customers are also responsible for paying any customs and duty charges for orders being shipped outside of mainland UK.

We have a range of different delivery methods to meet your specific requirements, we offer FREE standard delivery on orders over £499 which is 2 to 3 working days as standard, we also offer a range of express delivery options including next day AM and Saturday AM deliveries, please click here for full delivery information and should you need further help please do not hesitate to contact us.

Yes, for your security we require a signature on all deliveries and we advise when placing an order you choose a delivery address where someone will be available to sign for your order, should our couriers attempt to deliver and no one is available to sign for the order a card will usually be left and you can re-arrange delivery with the courier directly.

If you find any items in your delivery to be damaged you must contact us immediately, all damages must be reported to us within 48 hours of the delivery date unfortunately we are unable to look into damages if they are reported more than 48 hours after the delivery date. Please contact us for further information or to report any damages.

Our standard returns policy is 28 days, if items are un-opened, in outer packaging and in original re-saleable condition. There are no returns under any circumstances on samples. View our full returns policy.